LE CHENIN
Fresh, local and seasonal cooking
Recipes are prepared with fresh, local and seasonal ingredients! Come and [re]discover the authentic taste of good things.
The authentic taste of flavors
To find the "true" taste of food, it is essential to respect Mother Nature and the seasons.
With this in mind, you will not find any frozen products in our establishment. Everything is homemade… from A to Z.
Also, we get our supplies daily from market gardeners and breeders located less than 35 miles away.
Our products are as fresh as possible.
Therefore our menu evolves throughout the year… like the seasons.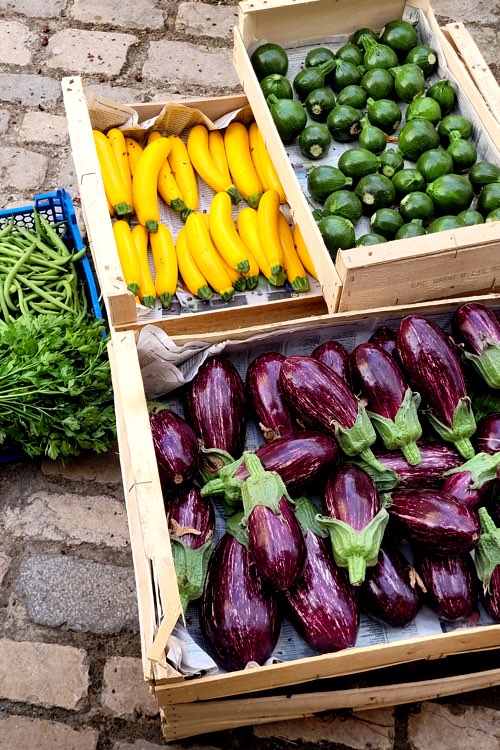 Maïté & Arthur offer you a friendly cook
Maïté Verrriez-Foene
Native of the North, Maïté discovers Saumurois and catering at the "Taverne d'Antoine" in 2012.
Driven by an independent spirit, she decides to open, with Arthur, a sandwich shop in "La Doutre"  (Angers district). This experience will be a great success.
It is at the restaurant "Au bon marché" that she meets Olivier. The latter will offer him to participate in the project "Le Chenin".
Initiated at Claudie Barrat Kause, Maïté loves attending wine fairs and helping her customers discover new beverages. Open their minds with unknown or little-known wines such as natural wines.
She will develop a truly original wine list for lovers of Bacchus… and those who simply want to rinse their throats.
Maïté's credo, to make Le Chenin customers happy and why not surprise them.
Arthur Favé
A native of Brazil, Arthur is influenced by the culinary and cultural mixes present on this part of the South American continent.
Arrived in France, he is quickly interested in cooking and decides to embark on a CAP cooking apprenticeship.
With Maïté, they decide to open a sandwich shop in La Doutre. On this occasion they are already setting up a desire to choose only local products.
After a few experiences at "La Terrasse de Saumur" and "Au bon Marché", the lovebirds decide to return to Brazil. Arthur takes the opportunity to learn gardening and permaculture.
Back in France, Arthur meets Olivier Schwirtz who offers him a new project: "Le Chenin".
They will work there together for 3 years.
Finally, he resumes, with Maïté, Chenin to develop all his influences and highlight local and seasonal products.
Curious, Arthur practices new cooking methods and tests smoking… for the greatest pleasure of gourmets.
In short, set up a healthy and creative cuisine around traditional dishes.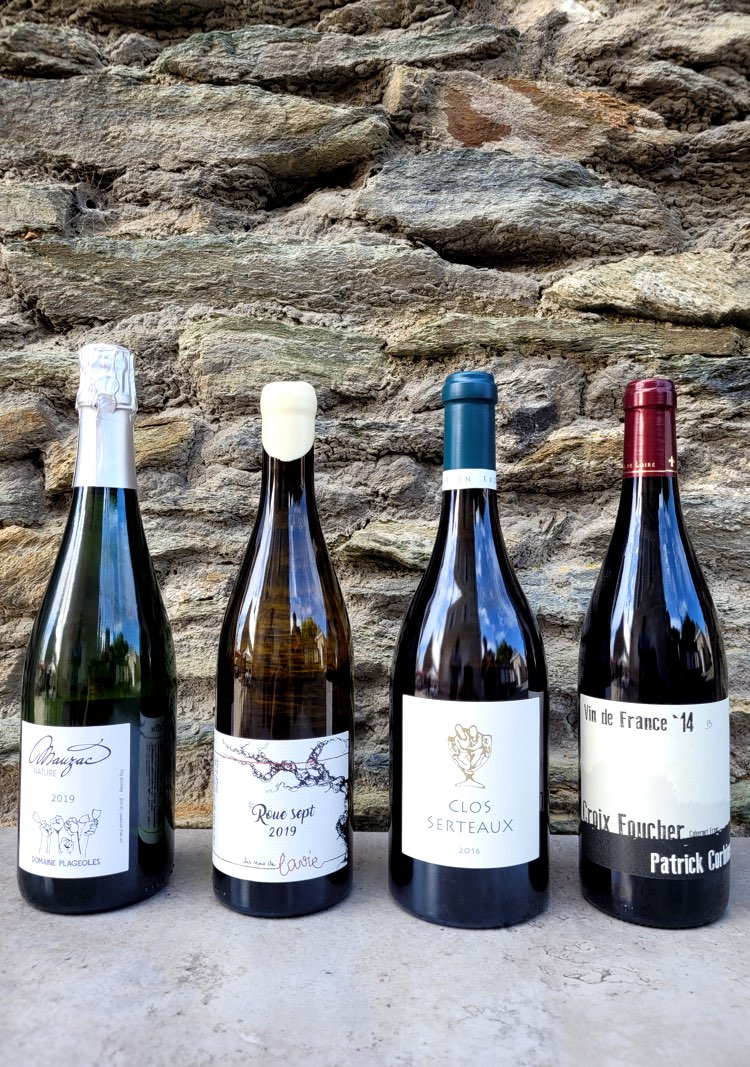 Wines from here and somewhere else
Discover in our cellar, the wine that will enhance your dishes among more than 280 references (organic, biodynamic or natural wines). With beautiful bottles of Loire wines (Nantes, Angers, Tours, Saumur).
Maïté's selection
Mauzac nature (2019) – Gaillac – Plageoles (sparkling)
Roue Sept (2019) – Savoy – Guillaume Lavie (white)
Clos Serteaux (2016) – Savennières – Eric Morgat (White)
Croix Foucher (2014) – Chinon – Patrick Corbineau (red)
Call on Maïté's expertise to find the right association
For the pleasure of the eyes and the taste buds
Rock octopus from the Sables d'Olonnes, warm potatoes, winter radish and beans.
Cream of mushrooms (oyster mushrooms, shiitake mushrooms and Paris mushrooms) and its new leek larded with homemade charcuterie accompanied by its perfect egg.
Poached pear with tonka bean
Pear poached with Tonka bean accompanied by its intense vanilla cream and almond financiers, candied rubarb and pear sorbet.
Smoked tuna carpaccio (whole), burrata ice cream, winter radish and squash pickles.
Butternut cream and its slice of peasant bread, shitake, homemade bacon and roasted hazelnuts.
Line-caught gray sea bream
Line-caught gray sea bream (Sable d'Olonnes), garden squash, broccoli, salicornia and "sauce hollandaise".
Twenty minutes by car from Angers, the establishment is located is located in the heart of the wine-growing village of Savennières. Less than 5 minutes on foot from the "Savennières" train station's.
It faces the church of "Saint-Pierre and Saint-Romain"; the oldest church in the county.
With its beautiful colorful front, you can't miss it.
Inside, 30 place settings are at your disposal in a typical village decoration. The terrace offers more than 40 seats in the shade of parasols.
You will be taken care of by an attentive and smily  team.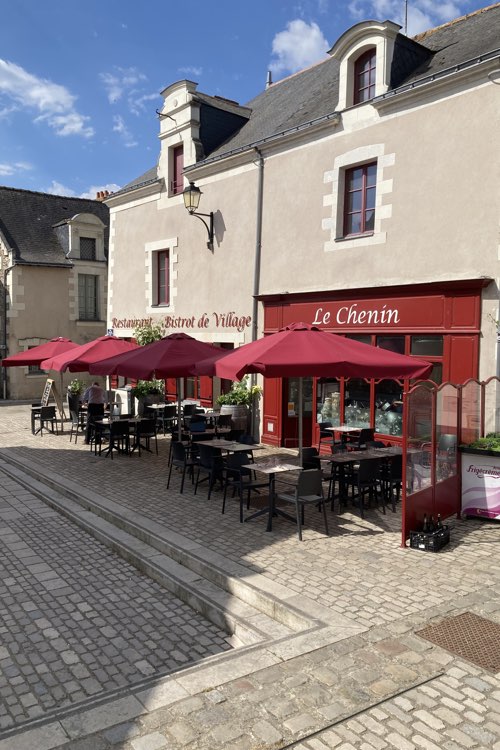 Le Chenin provides parents with a changing table and mattress located in a spacious and clean toilet area.
ALI LEGRAND Kania
29/05/2023
Très belle et bonne table dans un cadre chic et sobre. Un service qualitatif et très chaleureux. Bravo à toute l'équipe, du chef jusqu à l'équipe en salle. Continuez sur cette lancée.
Delicious and tasty french food Acceptable price and very good service
Marie-Emmanuelle Cellou
23/05/2023
Un délicieux déjeuner dans le très charmant village de Savennières.
Emmanuelle Houdayer
22/05/2023
Très belle soirée Très bel accueil Une petite régalade
roger Thomazeau
22/05/2023
En pleine saison… une seule asperge dans l'assiette Interpelle maladroitement Mille excuses pour mon amertume matinale Bonne journée à vous R THOMAZEAU
Alvaro Martinez Leon
21/05/2023
Lieu très agréable, cuisine fine, service impeccable, produits locaux, bons vins... très bon rapport qualité prix
véronique letouzé
20/05/2023
Nous avons passé un excellent moment, tout était parfait sauf un petit bémol : le pain qui n'était pas frais et croustillant.
Due to the number of tables, we suggest that our future guests kindly make a reservation.
Two car parks are at your disposal:
Place de la Concorde
MONDAY -TUESDAY
10:00 AM to 02:00 PM
06:30 PM to 09:00 PM
THURSDAY – SATURDAY
10:00 AM to 02:00 PM
06:30 PM to 09:00 PM
Drop Us a Line
Don't be shy. Let us know if you have any questions!